******SCARY ALERT!!!******SCARY ALERT!!!******SCARY ALERT!!!
"The idea of doing things on my own is very tempting, I promise you, not just on immigration reform.
But that's not how our system works.
That's not how our democracy functions,"
Obama told the National Council of La Raza.
******SCARY ALERT!!!******SCARY ALERT!!!******SCARY ALERT!!!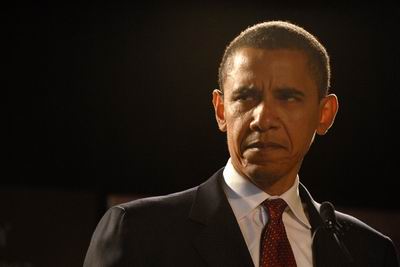 Last edited by Alexander Nevsky on Mon Jul 25, 2011 7:40 pm; edited 1 time in total (Reason for editing : COLOR)
What's so scary about this? He said he was going to work within the system. It's not like he's acting like George Bush, doing whatever he wanted and lying to the American people about it
This is the perfect example of a lost soul grasping at straws, just throw out the GWB reference and hope it sticks. As the administrator (of this left wing blog) I would expect a solid rebuttal; however the blog consistently gets an emotionally charged discharge of unsubstantiated facts.

So let's just check the lies………..

• Cut Deficit in Half by end of first term
• Unemployment rate will be 8.5% without stimulus.
• Guantanamo bay to be closed within a year
• Have troops out of Iraq by March 31, 2009
• The health care bill will not increase the deficit by one dime.
• Libya
• We all want a government that lives within its means.

Just a small example of President Obama doing " whatever he wanted" and lying to the American people.

P.S. At the very least, complete a sentence with a period!

I think he would have loved to have accomplished all those goals but he was a little busy cleaning up the giant mess George Bush left s in, fighting the constant lies and attacks and unreasonableness of the Republicans and tracking down Bin Laden.
A woman in a hot air balloon realized she was lost. She lowered her altitude and spotted a man in a boat below. She shouted to him,

"Excuse me, can you help me? I promised a friend I would meet him an hour ago, but I don't know where I am."

The man consulted his portable GPS and replied, "You're in a hot air balloon, approximately 30 feet above ground elevation of 2,346 feet above sea level. You are at 31 degrees, 14.97 minutes north latitude and 100 degrees, 49.09 minutes west longitude.

She rolled her eyes and said, "You must be a Republican.

"I am," replied the man. "How did you know?"

"Well," answered the balloonist, "everything you told me is technically correct. But I have no idea what to do with your information, and I'm still lost. Frankly, you've not been much help to me."

The man smiled and responded, "You must be an Obama-Democrat."

"I am," replied the balloonist. "How did you know?"

"Well," said the man, "you don't know where you are -- or where you are going. You've risen to where you are, due to a large quantity of hot air. You made a promise you have no idea how to keep, and you expect me to solve your problem. You're in exactly the same position you were in before we met, but somehow, now it's my fault."

He hasn't worked within the system yet, does any rational individual believe he is going to change now? NOT A CHANCE! OBAMA is the master of the backdoor.



Number of posts

: 57


Registration date

: 2011-08-04


Age

: 56


Location

: Oxford County



Great Joke. Thanks, I enjoyed it.
I still have no idea what you are getting at by your original post or what was so scary about it. Obama has worked within the system, even capitulating so far to the conservative side that he's angered a lot of his base.
Bush said "If this were a dictatorship, it'd be a heck of a lot easier, just so long as I'm the dictator." Bush acted more like a dictator, writing "signing statements in which he defined the intent of laws and making it wasy for him to just ignore parts of the law he didn't agree with.
http://www.sfgate.com/cgi-bin/article.cgi?f=/c/a/2006/05/07/SIGNING.TMP
Bush was a back door president that didn't care about the American people, just the wealthy that he declared as his base. He's the start of the Tea party elitists who now use their wealth to control (should I say strangle) this country.
Bush has cost this nation trillions and put us in the situation we are in now.
I stand corrected! President Obama is not scary! President Obama is lost………

I was going to type, however the ammunition is too surmount to continue. Escaping this American Presidency's failures is absolute blindness. I need not peruse. Sadly I haven't proven my objective. Most sadly that our President has. The saddest part is the ideology will not take the blame……..It will always be someone else's fault.
This is one of those times when one of those big thumbs up likes would certainly be in order. With the option lacking of clicking on a big thumbs up Mr. Nevsky, I offer you the best thing I can find, A VERY BIG THUMBS UP!



Number of posts

: 57


Registration date

: 2011-08-04


Age

: 56


Location

: Oxford County




---
Permissions in this forum:
You
cannot
reply to topics in this forum